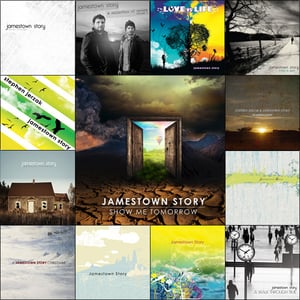 $

49.99
For the first time, you can now purchase the entire Jamestown Story digital discography! Own a copy of every CD, from Broken Summer to Show Me Tomorrow, all in one neat digital package! Includes instrumentals for over 50 songs, and you get all the cover songs I've done as a FREE BONUS!

The Digital Collection includes:
-Broken Summer (CD)
-A New Start (EP) (RARE!)
-The Jamestown Story (EP)
-One Last Breath (CD)
-The Prologue (EP)
-Love vs. Life (CD)
-Split EP With Stephen Jerzak
-Never Enough (EP)
-Find A Way (CD)
-A Walk Through Time (CD)
-The Nashville Sessions (EP)
-A Jamestown Story Christmas (CD)
-Show Me Tomorrow (CD)
-Misc released and un-released songs
-All instrumental music for Love vs. Life, Find A Way, A Walk Through Time, The Nashville Sessions, and Show Me Tomorrow!

AS A BONUS YOU'LL RECEIVE ALL THE COVER SONGS JS HAS DONE FOR FREE!!!

Once ordered your copy will be sent via Hightail.com/jamestownstory@gmail.com to your email! There will be 3 separate download links because there are 3 parts. (This is due to the file being extremely large!) Click each link, download, and enjoy every Jamestown Story song recorded!!